Doctor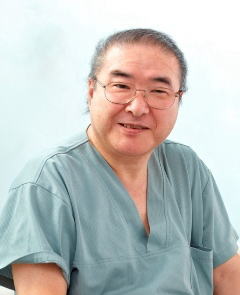 Mamoru Ueyama, M.D.

Each females gets over so many physical and mental changes through her life.
The first menstruation, infertility, conception, delivery, menopause, climacteric disturbance and
arrival of senescence…

As one of the experts of gynecology, I have always tried to provide the latest and most suitable
medical treatments to each patients in a homelike atmosphere. Clinical Experience for 35 years in
the university hospital allows me cooperate close with many university hospitals and general
hospitals in a wide range.

Yoga Ladies Clinic is open until 7:30 p.m. We are willing to support those who have to put matters of yourself later because of being busy with your work, study and so on. You may be able to come on your way home from your office or school.

Consultation in English is available. If you do not speak or understand Japanese at all, you will find no problem here.
---
Profile
2004 Open Yoga Ladies Clinic
1987 Instructor at the Department of Obstetrics and Gynecology, Toho University
1978 Completed doctoral course of the post-graduate school, Toho University (Issued Ph.D. licence)
1973 Graduated the Faculty of Medicine, Toho University, Tokyo (Issued M.D. licence)
Enrolled in the 1st Department of Obstetrics and Gynecology, Toho University
Residency in Omori Hospital, Toho University
1966 Graduated from Heian High School, Kyoto
1947 Born in Kyoto

Blood Type: B
Specialty & Hobby: Trumpet, Angling
---
Licence and Title (at the present)
Doctor specialized in Obstetrics and Gynecology
Doctor designated by the law for protection of maternal health
Instructor of the 1st Obstetrics and Gynecology Department, Toho University
Society (belonging)
Japan Society of Obstetrics and Gynecology
Tokyo ranch of JSOG
Japan Society of Reproductive Medicine
European Society of Gynecology